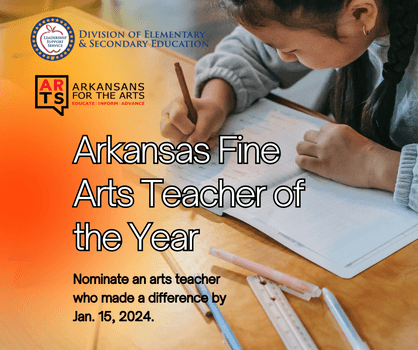 Nominate a fine arts teacher for recognition.
Arkansans for the Arts Announces New Teacher Award
A new award will spotlight and reward one fine arts teacher in Arkansas with $1,000.
"We are excited to announce the inaugural initiative – The Arkansas Fine Arts Teacher of the Year program – to recognize, celebrate, and support arts teachers statewide," said Jean Lacefield, chairwoman for Arkansans for the Arts. "This program aims to highlight the importance of the arts in education and tell the stories of the heroes who show up every day to improve our children's lives through art."
The Arkansas Fine Arts Teacher of the Year program, created through Arkansans for the Arts, annually will recognize one full-time arts teacher who lives and works in Arkansas. Nominations are open from Dec. 1 through Jan. 15 and will reward teachers and educators for the 2023-2024 school year. Anyone can make a nomination.
To be considered for the award, teachers must be full-time fine art educators in one of the content areas of art history, dance, literary arts, music, theatre, or visual art. Educators may teach public, public-private, private, or homeschool in any grade or combination of grades, kindergarten through 12th.  
Nominees will be contacted to complete an application packet for consideration. The final recipient will be chosen by an independent panel via Arkansans for the Arts.
The Arkansans for the Arts Education Committee will announce the final candidate in late spring of 2024. The Arkansas Fine Arts Educator of the Year will receive a certificate and $1,000.
---
Arts & Economic & Social Impact Study Released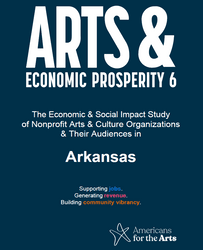 Arts & Economic Prosperity 6 (AEP6) is an economic and social impact study of the nation's nonprofit arts and culture industry. Nationally, the sector generated $151.7 billion of economic activity in 2022—$73.3 billion in spending by arts and culture organizations and an additional $78.4 billion in event-related expenditures by their audiences. This report includes information about Arkansas.