Arts Advocacy Day 2020 Schedule
9:00 AM | Via Zoom
LIVE: Welcome to Arts Advocacy Day
10:00 AM | Via YouTube
ARts Means Futures
A collection of videos highlighting arts education in Arkansas and around the nation. Get a glimpse of what Arkansas art students are up to, learn how to use the new Arkansas Department of Education statewide database, hear about the importance of internships, and learn about arts education for the new age.
11:30 AM | Click Here To Join Zoom
LIVE: Roundtable with AR Legislative Arts Caucus Members
12:30 PM | Via YouTube
ARts Means Communication
This series of videos shares how the arts is a strong tool to communicate history and stories. 
1:00 PM | Via YouTube
ARts Means Business
See how important the arts is to the economy, workforce development, and quality of life. Hear from creative economy leaders learn about successful creative placemaking projects around the state.
2:00 PM | Via YouTube
ARts Means Wellness
The importance of the intersection of arts and health can sometimes be overlooked. ARftA Board members, Students for the Arts, and ARftA members have contributed valuable content about the intersection of the arts and health in these videos.
3:00 PM | Via YouTube
ARts Means Community
All across Arkansas arts organizations are building community around the arts, creativity, and creative place-making. In this segment, visit some Arkansas communities who are doing just that, in expanding infrastructure, forging collaborations, and sharing the arts.
4:30  PM - 5:30 PM | Click Here to Join Zoom
Interviews with Congressman French Hill & Senator Joyce Elliot
Tune in via ZOOM at 4:30 to catch live interviews with Congressional Arts Caucus member, Congressman French Hill, and Arkansas Legislative Arts Caucus Founder, Senator Joyce Elliott. The event will be moderated by Dr. Chris Jones, Executive Director of the Arkansas Regional Innovation HUB, and our interviewers will be former ARftA Interns and up-and-coming arts professionals, Victoria Mays and Madison Conklin.  We will be asking our legislators about their thoughts on the future of the creative economy, how Arkansas can attract and keep creative talent, diversity in the arts, and what the arts  means to them. This is not to be missed!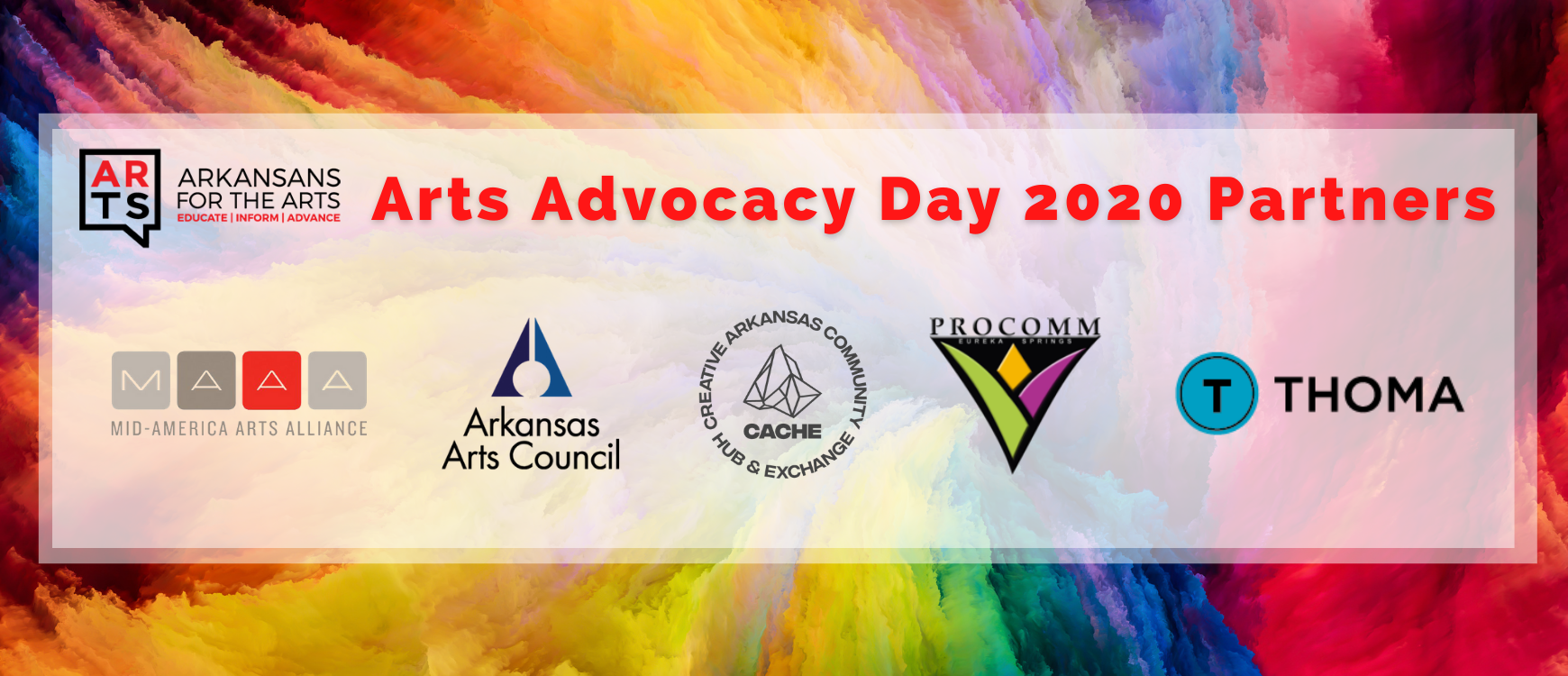 Arts Advocacy Day 2020 Partners
---