Students for the Arts
An Initiative of Arkansans for the Arts
---
Arkansans for the Arts piloted the Students for the Arts (SFA) program in 2019 with the University of Central Arkansas (UCA). The UCA chapter is the first of its kind in the nation. Through the program, students gain hands-on training and real-life experiences advocating for the arts and the creative economy and, the program gives them several opportunities to showcase their artistic talents in unique ways.
SFA students can apply for paid internships, meet with and learn from local, state and national legislators, policy makers and Arkansans for the Arts Board members. Arkansans for the Arts provides arts and creative economy advocacy training and materials and speakers for SFA meetings. Students participate in Arts Advocacy Day, round-table discussions, assist with arts and creative economy research and presentations and other Arkansans for the Arts programs and events.
Each semester, Students for the Arts (SFA-UCA) hosts a series of speakers that come from different educational and professional backgrounds, all of which play a role or integrate the arts in some way. For Fall '21, we will be hosting speakers online and in-person depending on their availability and preference. SFA will also be participating in ArtsFest, Conway Daze, and Fall Fest this year. 
UCA Students benefit from the SFA program by learning how they can become more involved on campus, in the arts community, and how to communicate with government officials about why the creative economy is important to them.
Based on the success of the UCA-SFA chapter, Arkansans for the Arts will be expanding the program to other campuses throughout the state.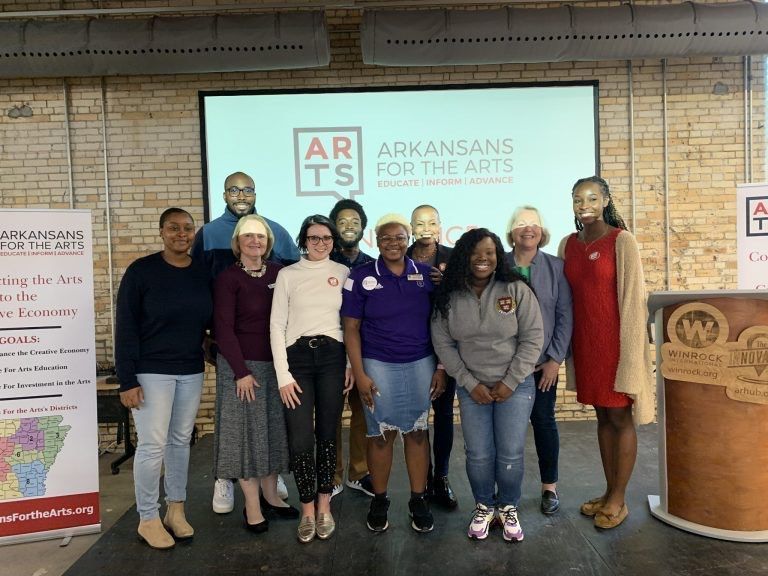 WHY A STUDENTS FOR THE ARTS CHAPTER IS IMPORTANT NOW
Students with art-based plus technology skills are beginning to be recognized as the primary pipeline for talent and our future workforce. Arkansas realizes the importance of the creative economy for job creation and revenue and is on the cutting edge of advancing students with art and technology skills. Senator Joyce Elliott, Representative Les Warren and the Arkansas Legislative Arts Caucus, in partnership with Arkansans for the Arts, were successful in getting a critical law (Arkansas ACT 577) passed in April of 2021 that will create statewide Arts & Technology Boot Camps. The Boot Camps will be conducted across the state and bring together state legislators, artists, students, businesses, investors, tourism, community and economic developers, product innovators, arts organizations and other representatives from creative industry sectors. 
For SFA, this is an opportunity to advocate for jobs that allow students to stay in Arkansas.