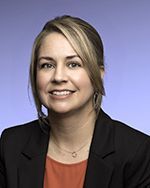 Meet our incoming ex-officio board member, Sarah Burns, who is also the program advisor in the Division of Elementary and Secondary Education for the Arkansas Department of Education. Burns is behind our recent push to create more benefits and opportunities for fine art teachers in our schools. She is actively looking for volunteers who want to be on the committee that develops statewide awards and training for teachers in the arts.
Burns is working with the Arkansas Arts Council, the statewide arts agency, to expand professional development and continuing education credits and opportunities for teachers teaching arts-related or integrated curriculum. Since moving to Arkansas at age 16, Burns has been involved in the arts in Arkansas. Currently, she is an advisory board member for the Arkansas Museum of Fine Arts and works with a wide variety of groups that promote language, learning and arts in Arkansas.
Q. Why did you join Arkansans for the Arts (ARfta)? 
A. I joined ARfta to support the arts in Arkansas from K-12 student artists to working artists in our communities.
Q. What are your hopes for the organization? 
A. My hopes for ARfta are to create a support network for Fine Arts Educators including a Fine Arts Teacher of the Year and annual professional development.  I want our teachers to be supported and our students to see that they can grow up to be working artists.
Q. What do you hope to see for Arkansas's creative institutions, economy and individuals? 
A. I would love to see a collaboration of support and artists working towards common goals such as community art involvement, promotion of all arts across institutions, and improving access to the arts for underserved communities and students.
Q. Can you tell us a little about who you are and why you support the arts? 
A. My name is Sarah Burns and I am the program advisor for Fine Arts at the Arkansas Department of Education.  I am a former visual art educator, art curriculum writer and standards manager.  I am also an artist; art was the thing that I looked forward to in school, and it was where I found my voice and was able to be myself.  I support the arts because the arts have the power to transform lives.
Q. Why should others become members of ARfta? 
A. Anyone who loves the arts should join ARfta, you can promote the arts in Arkansas, learn about opportunities to engage with art in your community and grow the creative arts economy.  It will take all of us doing what we can for the arts to grow and succeed.
For more information, please contact:
Sarah Burns, Program Advisor
Arkansas Department of Education
Division of Elementary and Secondary Education
Four Capitol Mall, Mail Slot 15
Phone: Little Rock, AR 72201
Email: 501-683-4905
sarah.burns@ade.arkansas.gov