1st Annual Arkansas's Arts Advocacy Day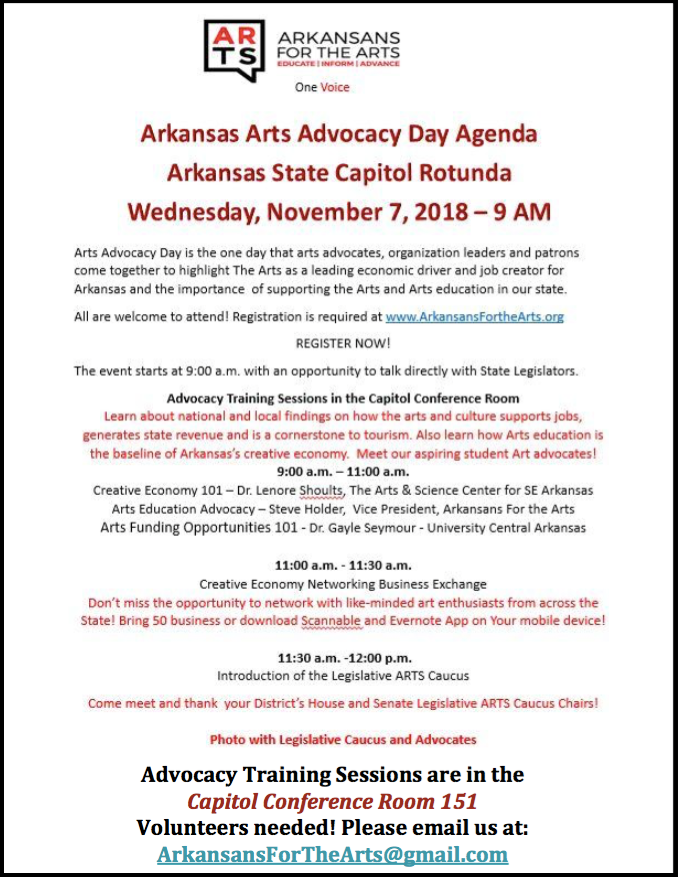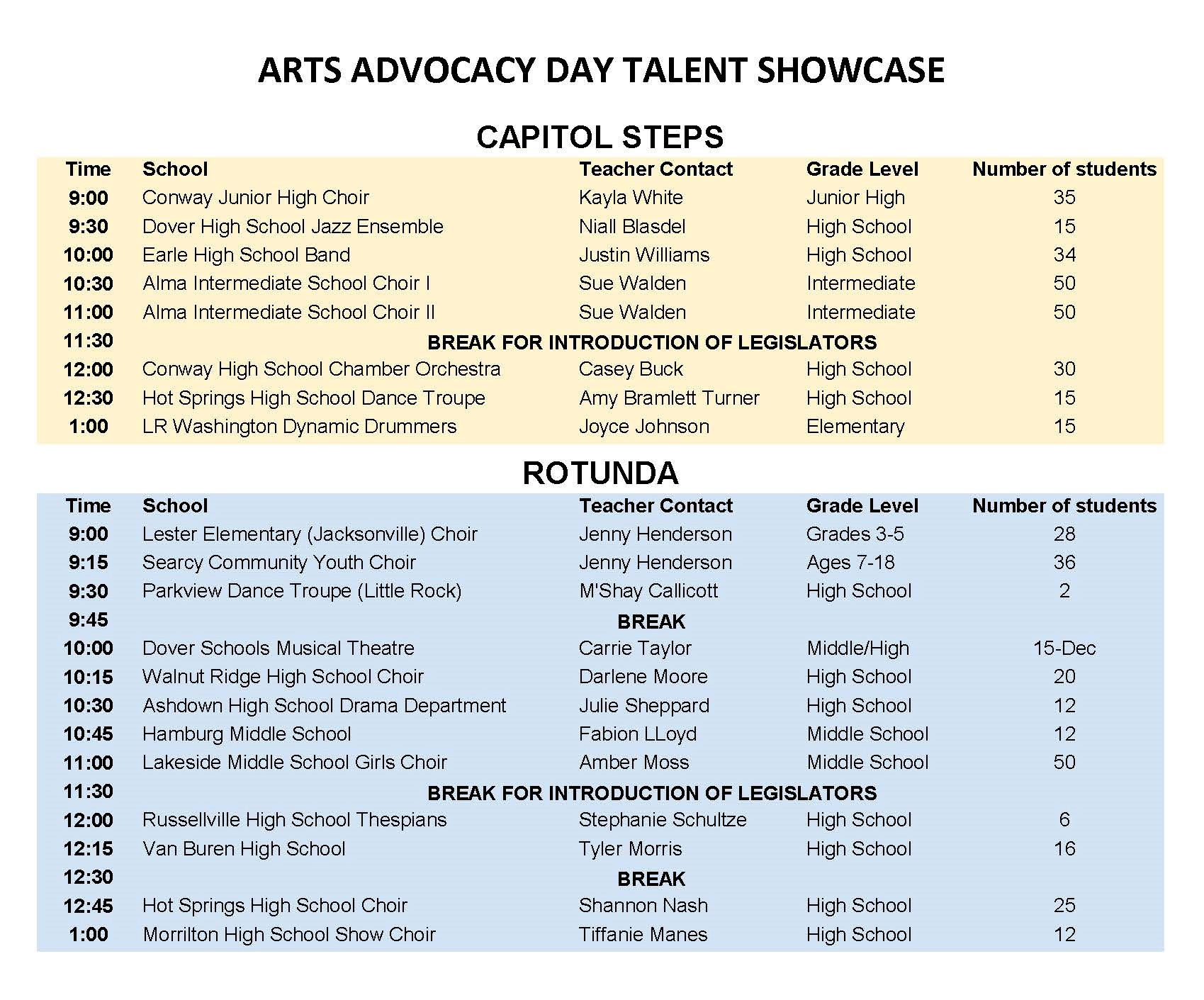 CREATIVE ECONOMY DISCIPLINES
Fine/Performing Arts (Theater, Music, Dance, Visual Art)
-Economic Impact measured through tourism dollars generated, tax revenue generated, etc.
-A vibrant arts and culture scene can transform an area of a town or an entire town itself (see: Argenta, North Little Rock, Creative Corridor, Little Rock, Wilson, AR)
Music
Opera
Performers
Services & Facilities
Theater
Dance
Photography
Painting & Sculpture
Building Arts (Architecture)
-There is economic and social value to "good design"
-Architecture can help to enrich the cultural value and significance of an area. Good urban design can help to promote civic pride and cultural activity
-Good architecture can be a lynchpin in creating new economic opportunities for communities
Architecture 
Interior Design
Floral Design
Culinary Arts (Chefs, bartenders, food industry employees)
-Economic impact measured through tax dollars generated for the State and municipalities
-Culinary artists can drive tourism and create destinations within their communities
-Culinary artists often employ large support staffs and can be job creators in their communities
Chef/Cooks
Bartendars
Food Industry Employees
Educational Arts (Teachers and Instructors)
-The value of the arts in education cannot be overstated in terms of developing well-rounded, successful students who in turn provide a community with an education and desirable workforce
Teachers
Instructors
NGO - (NEA)
Arts Schools
Arts Councils
Agents
Film, Radio & TV (Story Creation & Documentation)
Motion Picture Production (Directors, Actors, Screen Guilds)
Radio Production (Station Operators, Voce Over Professionals)
Television (Producers, Directors, Station Operators)
Museums and Collections
Historical Society
Museums
Zoos and Botanical Gardens
Publication Design
-The communication plan that supports creative design
Publication (Magazines, Books, Newspapers, etc.)
Advertising
Visual Design and Layout
Book Store Operations
Libraries
Cosmetology (Study and Application of Beauty Treatment)
Hair Stylist, Hair Colorist, Manicurist/Pedicurist
Massage Therapy
Aestheticians
2018 Membership Meeting
It is that time of year again and we want to celebrate you! Arkansans for the Arts Annual Membership Meeting will be on Sunday, October 21, 2018, in the Lecture Hall of the Windgate Center of Art + Design on UA Little Rock's campus. It will be from 3:30 p.m - 5:00 p.m. 
We would love to see you there!
Lecture Hall of the Windgate Center of Art + Design on UA Little Rock 
2801 S University Avenue
Little Rock, AR 72204
Let's Celebrate, Advocate and Participate!
The second week of September was resolved in 2010 to be National Arts in Education Week. This resolution states, "Arts education, comprising a rich array of disciplines including dance, music, theatre, media arts, literature, design, and visual arts, is a core academic subject and an essential element of a complete and balanced education for all students." 
Visit Americans for the Arts website to discover the variety of ways you can Celebrate! Advocate! and Participate!