Spring/Summer 2019 Newsletter
---
National News Update
FY 2020 Appropriations – All Eyes on Senate!
On June 25, the U.S. House passed 10 of the 12 appropriations bills, including the Interior bill which included the $12.5 million increase for the NEA and NEH.  The two outstanding appropriations bills in the House are Legislative Branch and Homeland Security.
Now, the U.S. Senate may begin to consider FY 2020 Appropriations. 

The Debt Limit is scheduled to end sometime this fall, with recent reports saying it will be reached in early September (initial reports stated Treasury would possibly be able to put this off until sometime in October).
Congressional leaders and the White House are now talking about potentially voting on/passing a "grand bargain"—FY 2020 funding, raising the spending caps, and raising the debt limit—before the August recess.
Other Terrific Legislative Developments
CREATE Act Update
STAR Act Update (Transit)—Check out this Legislative News item for a brief rundown of action being taken with the STAR Act (H.R. 3437).  See also the list of congressional staffers who attended the STAR Act briefing on June 27.
RISE for Trauma Act (S. 1770)—after being alerted by Jonathan VanderBrug about Sen. Dick Durbin's (D-IL) being interested in input from the arts community, we worked with Jonathan and Sen. Durbin's staff to include arts-focused language in the bipartisan bill.

Sec.101 (F) would enable "agencies", including local arts agencies and state arts agencies to be eligible for support through this bill.
Sec. 105 adds a new grant-making category to the NEA's authorizing language "(11) projects, programs, and workshops that provide therapy and creative expression opportunities through the arts for children, and their families as appropriate, who have experienced or are at risk of experiencing trauma."

Legislative Priorities Infographic – A visually appealing way to organize all of the various pieces of legislation we're currently following.  This is the most robust pursuit of legislative priorities AFTA Government Affairs has ever followed, so organization is key!  Be on the lookout for this infographic in the coming days so you can use it in your work. 
---
August Arts Advocacy Challenge!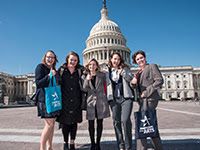 The U.S. Congress will take its traditional month-long recess in August. Members of Congress will be in their home states and districts working and making visits to organizations and businesses. Wondering how to continue your arts advocacy momentum during the long recess? Sign up here to receive action alerts to participate in our August Arts Advocacy Challenge! Each Thursday in August, you'll receive an email prompting you to contact your member of Congress to cosponsor a different piece of legislation that supports the arts in America. It's a quick and easy way to take action for the arts!
---
THEA Foundation ~ Member/Organization Spotlight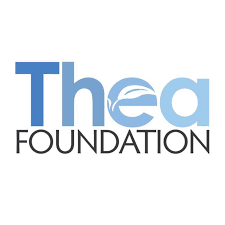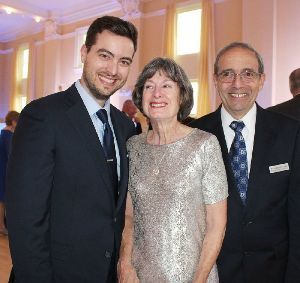 Victoria Mays (V)
Nick Leopoulos (N)
Nick is the new executive director of the THEA Foundation. Nick served as the Assistant Director from 2011 to June 2019.
V: How long has the THEA Foundation been around and what is your overall purpose?
N: Since we started in 2001, we are going on 18 years in September. We started with just a scholarship competition which was what Paul really wanted to focus on. Paul listened to teachers for a good early part of the foundation's existence and really sought to understand their needs. There were teachers who wanted to do creative projects in the classroom, but needed materials and funds for it. We have been able to help out with that each year by providing supplies to teachers all across the state. We have also developed a relatively new program that helps teachers receive constructive professional development and supplies to help give them a better platform to advance in their own careers and schools. There are a lot of technical aspects to their jobs that they can't address unless they're given the opportunities to provide new content for their kids. We don't want to be another source of an unfunded mandate for teachers who want to help their students. We provide the opportunity to help teachers execute whatever it is they want in their classrooms so they can show everybody and say, "Hey, look what we get to do on a daily basis." Paul really focused on what the teachers were and still are telling him about their needs in the classroom.
We're really tethered to how education is executed on a daily basis in the state. We try to keep tabs on what the department of education and higher-education is doing. We have a lot of communications with higher-ed to see what teachers need from a higher standpoint and maybe have funds like that for secondary education. We're putting energy behind supporting the arts and focusing on how we benefit teachers and students in the state.
V: I'm aware that THEA focuses on the educational side of the arts, but what is truly your purpose in the arts?
N: Our mission is to advocate the importance of the arts and the development of Arkansas' youth. While that doesn't specifically state education, schools are where majority of Arkansas' youth exist. We also see the platform of education (primary & secondary) as a great opportunity to bring further awareness and validation towards engaging the meaningfully structured coursework because in this day and age when anything is seen as sort of a valid part of a student's life is during the course of the school day. I wish we had all of the access to the capital in the world where we could be separate from that stigma, but we just don't and kids need a great education. If we need to work with them in those parameters, so be it. We will always seek to have ancillary experiences outside of the school day and we have a 5-year plan to sort of incorporate more of that because there needs to be a balance. We want to continue to do things during the school day as well. Throughout the almost 20 years of the foundation's existence, Paul, the executive director, has decoded how lawmakers and administrators really kind of focus on what happens during the course of the school day and how they go about promoting the things that are important to a kid's education. We want to be smack dab in the middle of that. We want schools to feel the empowerment and comfort to be able to support a great arts' curriculum and the art teachers to be able to give the students the much needed complete picture of education as opposed to a very specific sort of channel approach that pushes them into a particular vocation. If we're really considering a liberal arts education, which that is what any education is (K-12) because students are exposed to so many different things. You need all components available for students and that absolutely includes the arts. There is nothing that teaches such higher order communication skills or helps promote empathy or sympathy that are necessary components for humans to operate on a daily basis other than art. 
V: For scholarships, what categories do you feature?
N: For scholarships, we offer a visual arts, performing arts competition, creative writing, fashion design, slam poetry, and filmmaking competition for high school seniors. Filmmaking and visual arts are the largest categories with ten scholarships apiece. The other categories all have five each except for fashion design which has two scholarships.  We also have a component where Arkansas schools will seek to match the funds students earn through the scholarship competitions. Some schools like UA Little Rock, will have money for the first place winner and also match the entire scholarship amount over the course of four years. We also have other schools outside of Arkansas, but they aren't as robust.
Soon we hope to help students envision what a career might look like in the creative industry. It is only when a student is in the thick of it that they truly understand 110% where they are going. I think it's key to help them find that piece to complete that. We hope to engender that here in the state. It's something that I feel the populous is ready for. There are seasons for creative consumption, more specifically in Pulaski county. You do have to look at the emergence of how much capital is given through the creative industry, like in Northwest Arkansas. It's incredible how the Walton Foundation is laying down all of this foundational work for all of these other opportunities to kind of grow from it. I haven't talked to them personally about this, but I feel as though they consider it a principle duty of theirs having all of this opportunity (i.e. money) for creative access for everyone else. You don't know what you don't know until the public has the opportunity to be inside of a building like Crystal Bridges, designed by one of the preeminent architects in the world, Moshe Safdie, and it was created in the location which he arrived at and decided was right due to the surroundings. It's inevitable for a group of people, a municipality, county, region, or state to be without cultural influence and experience the humanity of everything until they starve and crave it again. That's why it's seasonal and we're tethered to whatever money is coming out of the National Endowment of the Arts, Americans for the Arts, or whoever is going to help see these programs survive regionally. Then, you have the other more hyper-local organizations like the THEA Foundation trying to provide as much of a platform as they can give. It's incredible that we have the wealth in the state to be able to give us something great like Crystal Bridges.  
V: So, tell me a little bit about the gallery space you have here?
N: Yes, we did undergo a capital campaign and then construction to divide a gallery space in half. We had Jeff Horton with Herron Horton Architects to design our new office space. For seven or so years we've had the Art Department Series, a quarterly series for young professionals. We try to seek out artists who don't have a particular platform or reputation for a gallery sponsorship or something of that nature. We want them to just be coming out and have a desire to get their work in front of people. The experience is very dynamic and fun. We throw artists a party and people come and see their work. We always hope to be that entry point for artists if they want that. We also have high school shows during the month of April where some Little Rock public schools will set up for a week and have their work on display. They'll have a show for parents, students, and teachers to come look at their work and interact with it.


A strong majority of THEA's scholarships are endowed. This year there was 36 total winners. Since 2002, THEA has awarded 399 scholarships, totaling almost $2.3 million in scholarships. Feel free to check out the THEA Foundation 2019 scholarship recipients at https://www.theafoundation.org/blog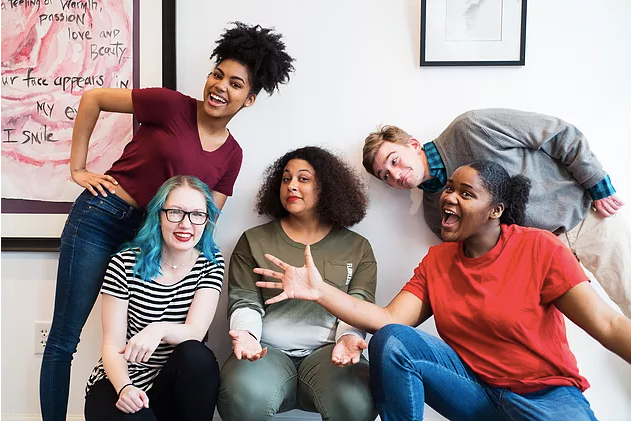 ---
ARftA at Arts & the Park 2019 in Hot Springs, AR ~ April 26th-27th ~ District 5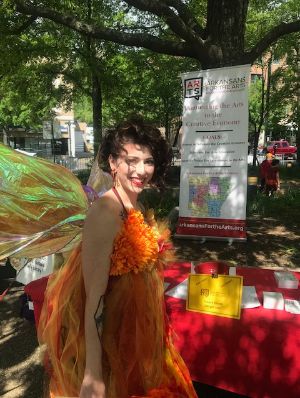 Jean Lacefield represented ARftA at Art & the Park on April 26th & 27th at Hill Wheatley Plaza.
---
ARftA at Creative Placemaking Conference: Paving the Way in West Memphis. AR ~ May 16th-17th ~ District 7
Jean Lacefield and Lenore Shoults attended the Paving the Way conference where speakers and panelists discussed ways we can strengthen creative placemaking and the creative economy in our communities. 
The next Paving the Way conference will take place on September 19-20, 2019 in Pine Bluff at the Arts and Science Center for Southeast Arkansas.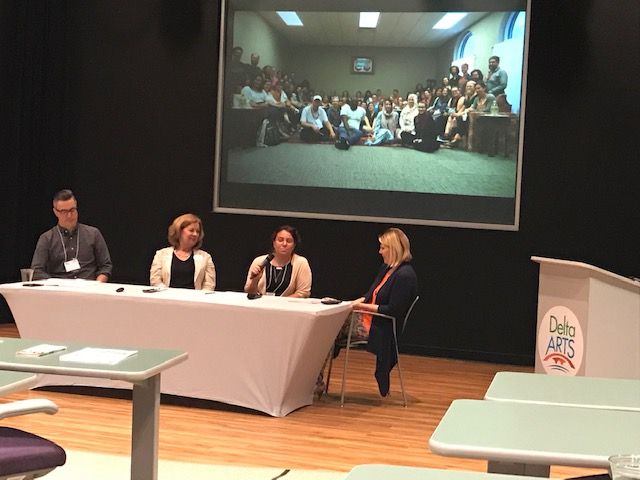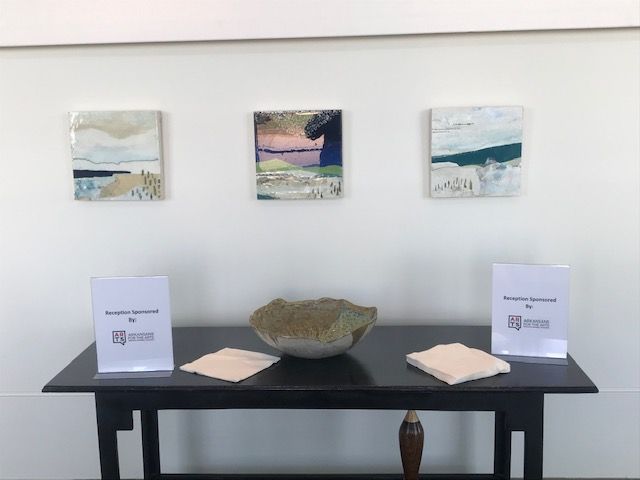 ---
ARftA at Women Make Arkansas Market in Little Rock, AR ~ May 30th ~ District 6
Garbo Hearne and Erin Holliday represented ARftA at the first Women Make Arkansas Market created and hosted by our member, Erin Wood, owner of Et Alia Press. Et Alia published the book, Women Make Arkansas: Conversations with 50 Creatives, earlier this year and ARftA Board Chair was featured.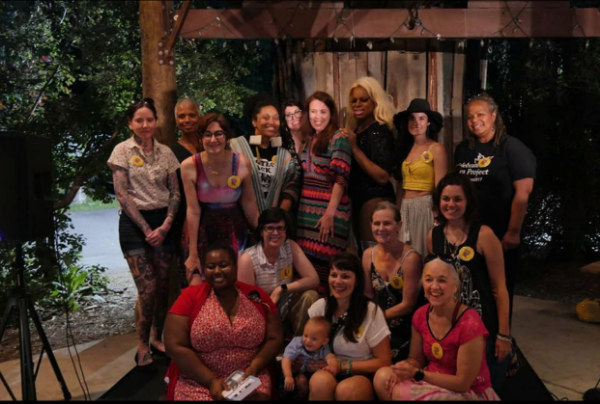 ---
The Arts in the News
Big Ideas for Arkansas 2019 ~ Arkansas Times
"In a near-annual tradition, the Arkansas Times recently solicited suggestions from thinking people — from experts to the creative-minded — on how to improve life in Arkansas. We present their ideas here. We hope you find them as inspirational as we do. If any especially strike a chord with you, help make them happen. Many are works in progress; those that aren't could be with the right collection of advocates."
Continue reading here: Big Ideas for Arkansas 2019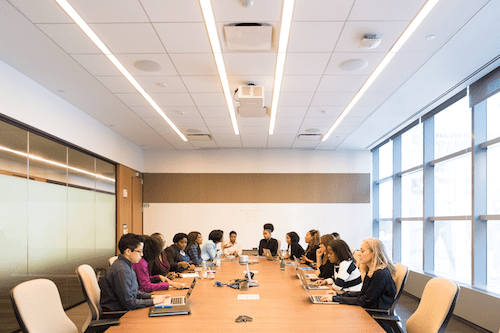 ---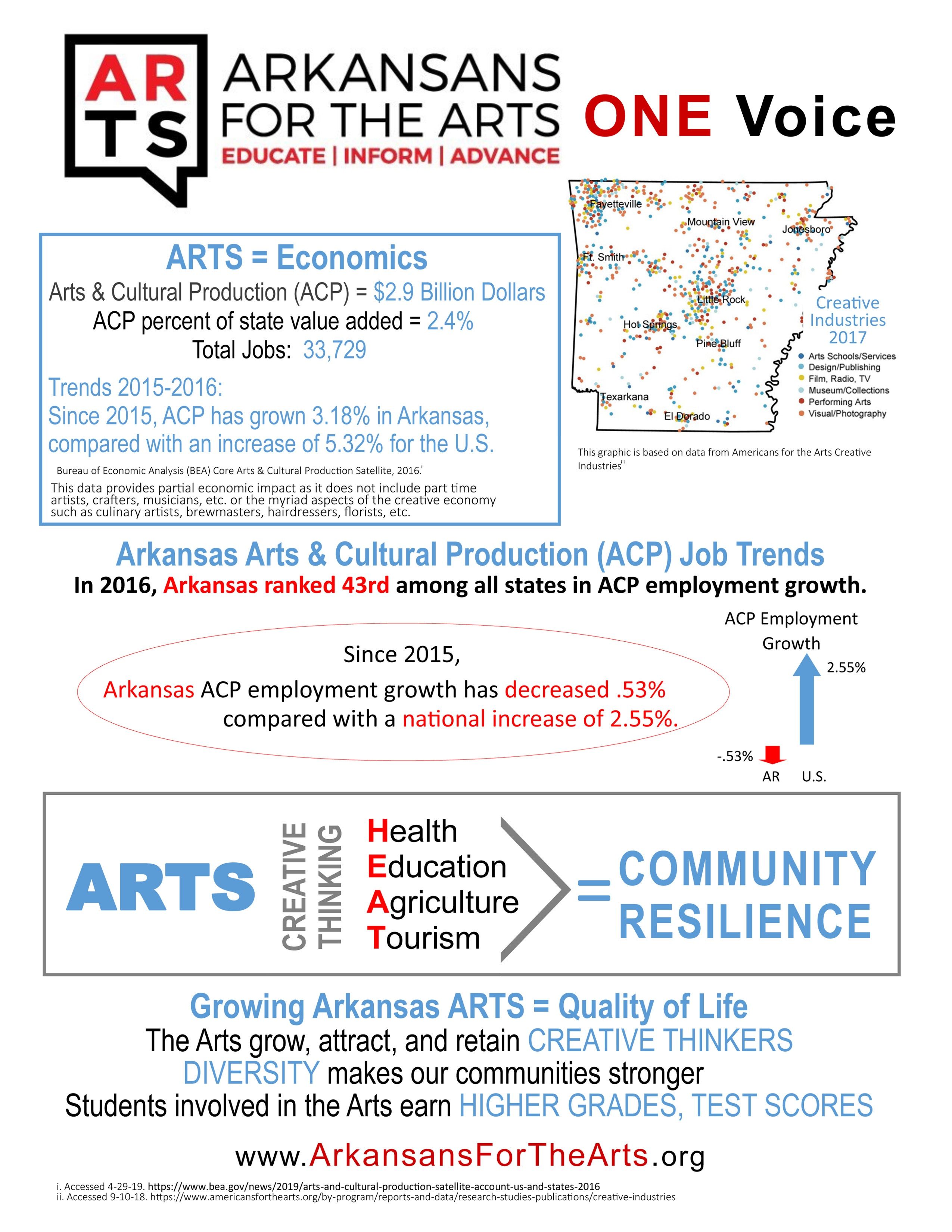 ---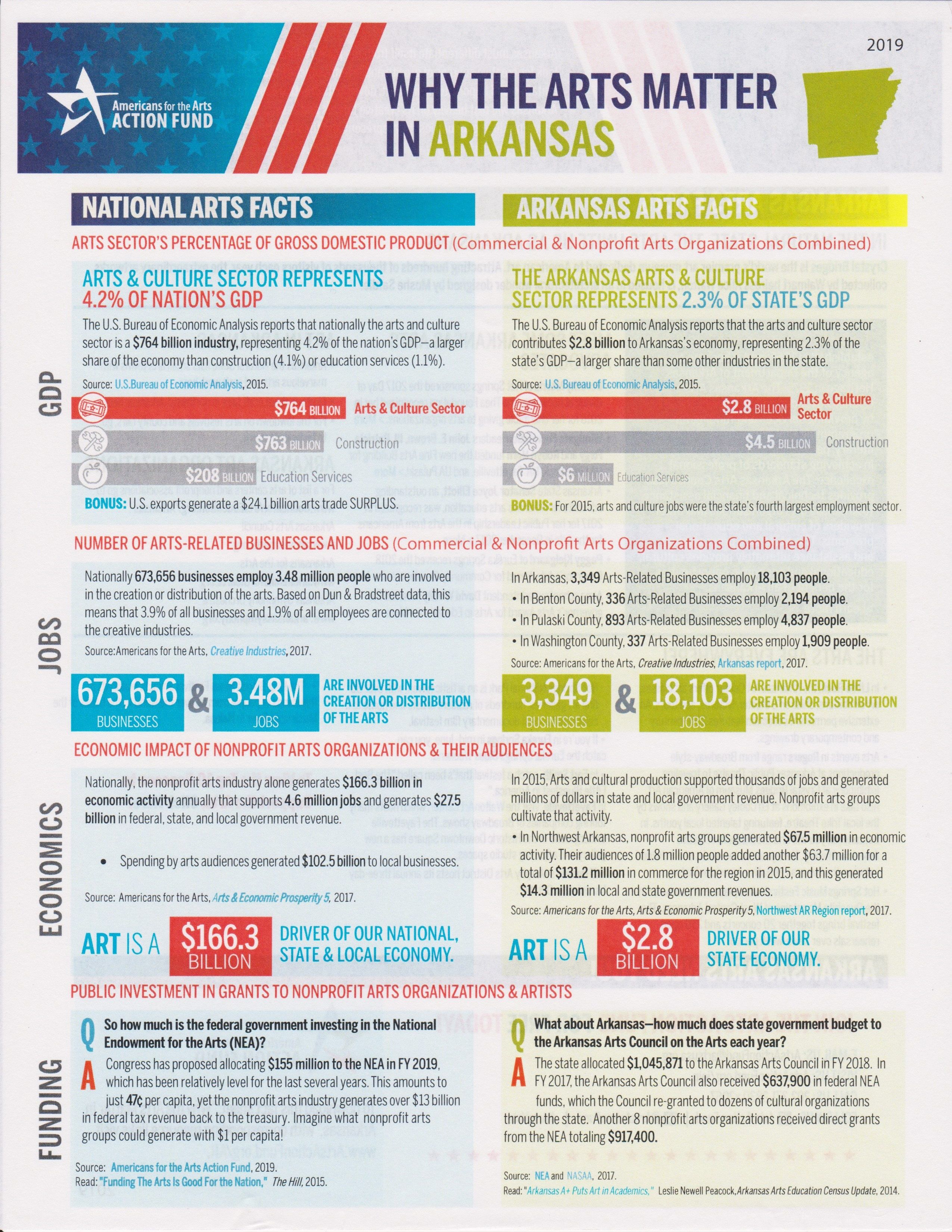 ---
ARftA & Amazon Smile

Arkansans for the Arts is now a part of AmazonSmile! Thanks to AmazonSmile, Amazon donates 0.5% of the price of eligible smile.amazon.com purchases to charities, ARftA in this case, that is selected by customers (THAT'S YOU!). 
Our unique charity link is: https://smile.amazon.com/ch/47-1634388
Now, you can support us even while you're shopping!
---
SAVE THE DATE!
Paving the Way Conference ~ September 19-20, 2019 
Arts & Science Center for Southeast Arkansas, 701 South Main Street, Pine Bluff, AR 71601
ARftA Arts Town Hall Meetings have been planned in every district. In lieu of a statewide Arts Advocacy Day, ARftA is coming to every district to present an Arts Town Hall Meeting to launch data collection and have an arts' conversation with your statewide Senator and/or Representative.
District 8 Arts Town Hall Meeting/Reception~ Saturday, September 19, 2019 @ 5 PM
Arts & Science Center for Southeast Arkansas, 701 South Main Street, Pine Bluff, AR 71601
District 1 Arts Town Hall Meeting ~ Sunday, October 6, 2019 @ 12-3 PM
Walton Arts Center, 495 W Dickson St., Fayetteville, AR 72701
Join us at Arkansas Arts Council's "ARTLINKS 2019: Live/Work/Art" on October 7-8th. For registration details follow this link. 
ARftA's Annual Membership Meeting ~ Sunday, October 27, 2019 (Save the date! Time and location will be announced)
---
A Message from the Chair
Greetings,
Arkansans for the Arts is on a mission to add members and arts organizations in every district in Arkansas. Our goal is to build a strong constituency of arts advocates who are well educated on Arkansas and national arts initiatives and issues. We are fortunate to have a strong foundation of support from state, regional and national partners such as the Arkansas Arts Council (AAC), Mid America Arts Alliance (MAAA), National Assembly of State Arts Agencies (NASAA), and Americans for the Arts.
We support the National Endowment for the Arts that broadens access to the cultural, educational, and economic benefits of the arts to advance creativity and innovation in Arkansas and across the United States. We are a resource to the Arkansas Legislative Arts Caucus and support legislation that invests in Arkansas' artistic workforce and creative economy.
ARftA called on the "drum major for the arts" in Arkansas schools: State Sen. Joyce Elliott (D-Little Rock) and presented her with the numbers: The arts industry in Arkansas has had an economic impact of $2.7 billion and created 34,000 jobs, according to a 2015 analysis. As good as those figures are, the job total doesn't include part-time work, so it under-represents the total impact.
Thanks to Senator Joyce Elliott, the caucus was formed and ARftA introduced them at Arts Advocacy Day last November. The beauty of this caucus is that its bipartisan. One of the big ideas we shared with the Arkansas Times is our goal to advocate for a seat at the table at the Arkansas Economic Development Commission. With the caucus' help, we hope to successfully reach that goal and many more. 
Your membership and participation in Arkansans for the Arts is very important and we urge you to invite others to join. We are planning to come to every district with our message and initiative to help educate each district about the arts' creative economy. Thank you for your membership and active participation. We look forward to seeing you at our upcoming events and our Annual Membership Meeting in October.
Garbo Hearne, ARftA Chair